VIBRANT MEETINGS & EVENTS
EXPERIENCE HAARLEM
We believe in the power of meetings.
We are convinced that a perfectly organised meeting is the ideal setting for achieving change and inspiring innovation! We have developed a completely new and refreshing meetings & events concept, including meeting rooms with a playful twist that transports you into the historical centre of Haarlem.
Meeting rooms
REVIEWS
Read the experiences of guests you went before and how they look back on their meeting at Carlton Square.
Read reviews
FEEL THE BEAT OF BUSTLING HAARLEM
EASY COME, EASY STAY
Carlton Square is located in the heart of Haarlem. That makes us easy to reach for your guests and the hotel is also a convenient base for exploring the city. We offer the option of extending a (multi-day) meeting to include an overnight stay in one of our stylish rooms, with a delicious breakfast to get your day off to a perfect start the next morning! After all, what could be nicer than relaxing in our hotel after a busy day and enjoying all the comforts we offer you?
Rooms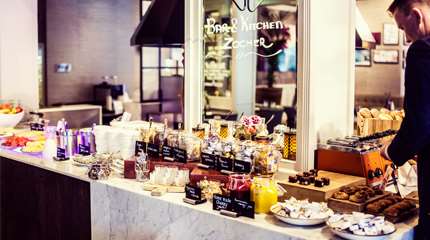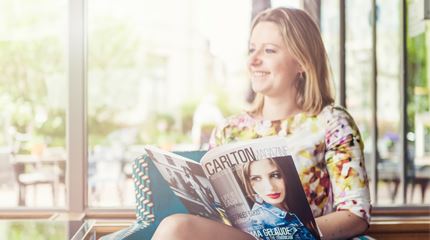 Niki
EVENT CREATOR
"From inspiring settings and activities to surprising food & beverage concepts, together with our team, we will do everything we can to surprise your team and exceed expectations. I will take you into the preparation of the meeting, so that you be sure that the predetermined goals are achieved."
Bastiaan
CHEF
"I work with fresh ingredients from the Haarlem area to delight you with the flavours of the season. Hearty, without far-fetched additions, with a strong emphasis on the product itself. We serve dishes from all over the world at Zocher, but in the kitchen we look for ingrediënts closer to home."
Brecht
MANAGER BAR & KITCHEN ZOCHER
"Delicious barista coffee, lunch around the open kitchen, a cocktail at the bar or a dinner with friends on the terrace. A bar and restaurant is at its best as many people can enjoy it. As a famous Haarlem garden architect of yesteryear and certainly as a true Burgundian, Zocher is the inspiration for our lively meeting place."
Make a request
Our passionate event creators involve you closely in all the preparations for the meeting so you can be confident of achieving the goals you have set yourself. Please contact us for your request and we will send you an offer!