BEACH BOUTIQUE ROOMS
A TOUCH OF LUXURY, AN OCEAN OF STYLE
A touch of luxury, an ocean of style
Our Boutique rooms are equipped with all the comforts you could possibly need, and a touch of luxury. The fresh and attractive interior draws inspiration from the sea, the enchanting sunset and the beach. The feeling of relaxation and intimacy is enhanced by carefully chosen furniture and the use of warm, cosy colours. This is a wonderful place to unwind after a long day exploring the coast. With a stunning view you will never tire of!
Book now
BOOK WITH US DIRECTLY
AND ENJOY:
A relaxing stay by the sea

Hotel room with a private balcony

Two restaurants with sea views

Private car park (please make sure you book beforehand)


BEACH BOUTIQUE
RELAX IN STYLE
You lean back in the comfortable lounge chair, armed with a good book and an ice-cold drink. Behind the open balcony doors, the sun slowly sets, painting the world in orange hues. As you take in the spectacle, you feel completely relaxed and realise: this is exactly what I needed.
Our Boutique rooms offer you a soft and deliciously luxurious king-size bed to guarantee undisturbed dreams, a comfortable lounge chair, a flat-screen TV, coffee and tea making facilities and your own Philips clothes steamer for the ultimate in enjoyment. Furthermore, you open your eyes every morning to 'a stunning view', which you can savour to the full from your personal balcony.
WHICH VIEW CAN WE RESERVE FOR YOU?
VIEW AND BOOK THE OPTIONS BELOW.
BEACH BOUTIQUE
LAND VIEW
Private balcony and sitting area
King-size bed
Minibar
Nespresso coffee machine
Bathroom with shower
Lounge chair
Philips clothes steamer
Maximum of 2 guests
BOOK NOW
BEACH BOUTIQUE SIDE
SIDE SEAVIEW
Private balcony and sitting area
View of the dunes or boulevard
King-size bed
Minibar
Nespresso coffee machine
Bathroom with shower
Lounge chair
Maximum of 2 guests
BOOK NOW
BEACH BOUTIQUE FRONTSEA
FRONTSEA VIEW
Private balcony and sitting area
Frontsea view
King-size bed
Minibar
Nespresso coffee machine
Bathroom with shower
Lounge chair
Maximum of 2 guests
BOOK NOW
WHY COME TO CARLTON BEACH?
AN UNFORGETTABLE STAY ON THE COAST
You'll find Carlton Beach in the nicest spot in Scheveningen: at the end of the promenade, directly by the sea. Tempestuous rain and wind or summer sunshine: it is always beautiful here, whatever the season! Enjoy luxury, comfort and the ultimate in beach life - and unwind completely, in the way that suits you best. Feel like a run to clear your head out in the fresh air? Or would you prefer to spend hours lazing at the beach and look for new shells for your collection? Do whatever you feel like; it's your holiday.
Carlton Beach surrounds you with warmth and comfort. Our Beach crew makes sure that you lack for nothing. And the facilities and stylishly decorated rooms are designed to fulfil all your desires. From our stylish Sports & Health Centre to the culinary delights in our restaurants, every moment at Carlton Beach will be a memory to cherish. Unwind and enjoy!
RESTAURANTS
Sample the culinary delights prepared by our talented chefs in the cosy Beach Brasserie or Smugglers Grill. Pick your spot and sit down here for a delicious breakfast, a finger-licking good lunch or a stunningly tasty dinner. Our extensive menu entices you with the finest fish, meat and vegetarian dishes. And we have a special children's menu to make sure that the little ones are pampered as well. To top it all off, you are also treated to a breathtaking view in both restaurants.
More information
SPORTS & HEALTH CENTRE
Carlton Beach offers several great extras to make your stay complete. How about free use of our pool and the well-equipped gym? You can always relax and exercise here in line with your needs and mood.
But perhaps you are looking for even more relaxation? You can book a relaxing massage or sooth away all your stress in the sauna (extra charge).
More information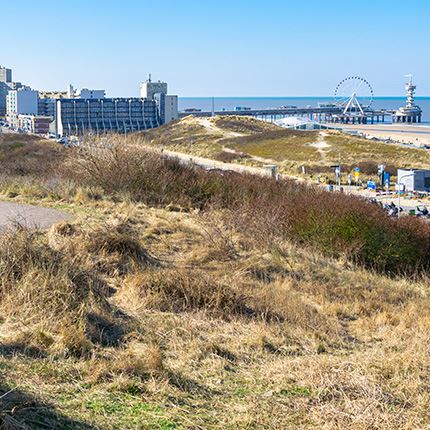 SURROUNDING AREA
Discover all the sights and experiences on offer in the area around Carlton Beach. Whether you want to spend a day shopping in The Hague, get a breath of fresh air along the miles of coastline, or explore Scheveningen's nature areas by bike, everything is within easy reach here. And we are always happy to give you the best tips and surprise you with insider suggestions!
More information