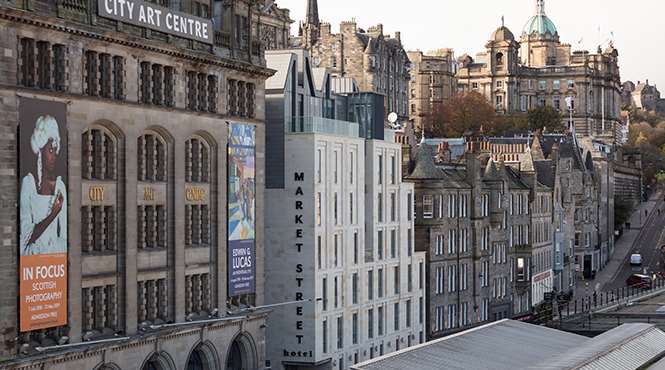 Market Street Hotel
Edinburgh - open August 2019
We can't wait to welcome you to the much anticipated, Market Street hotel. A unique oasis away from the hustle and bustle of city life whilst keeping its finger on the pulse of Edinburgh's beating heart.
The hotel is built on the border of Edinburgh's historic Old Town, at 6 Market Street, next to the City Art Centre. The hotel features 98 urban boutique style rooms & suites and boasts a rooftop Champagne residence with panoramic views, designed to leave a lasting impression on today's intrepid traveller.
Market Street hotel is the first Design Hotels™ member in Scotland.
Visit website
THE SOUL OF EDINBURGH
Drawn from the brutal beauty of Edinburgh itself, the city that inspires us.
Market Street hotel combines bold design and distinct comfort. Steeped in history and reflecting Edinburgh's forward-thinking nature, alive through all elements of design, interaction and guest experience. Market Street hotel is primely placed in the epicentre of the city. It's ideally situated to discover your own path as you explore our enchanting city.
Contrary to the bustling city life outside, a quiet and intimate atmosphere is created in the small outer courtyard adjacent to the hotel's entrance. Inside, the hotel entrance is bright with towering ceilings. Be swept you off your feet with a warm welcome at reception, uniquely located on the 7th floor.
View Rooms & Suites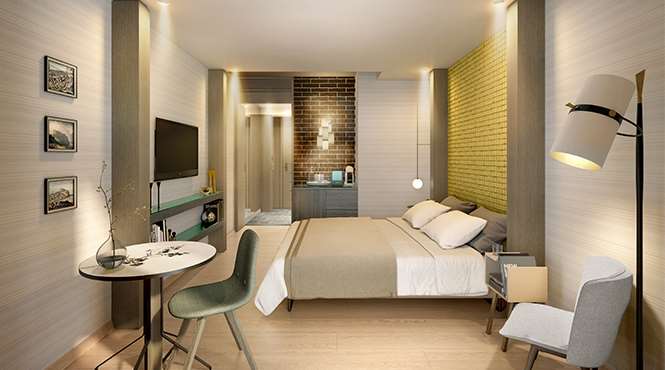 A sneak preview...
Each room is finished with thoughtful design and a creative use of space. The bedrooms offer a balanced approach by mixing contemporary imagination with a respectful nod to the past, featuring artwork from neighbouring galleries, locally made fabrics and bespoke design furniture. Our indulgent ante-bathrooms, with gorgeous Scottish amenities and rainfall showers, are the perfect way to revitalise mind, body and soul. Ready for the day's adventures or a night under the city lights.
The interior design of Market Street hotel comes from the award-winning designers FG Stijl who have offices in Amsterdam and Dubai. In 2007 FG Stijl designed The Dominican in Brussels, a boutique hotel which also forms part of the Carlton Hotel Collection.
Visit website