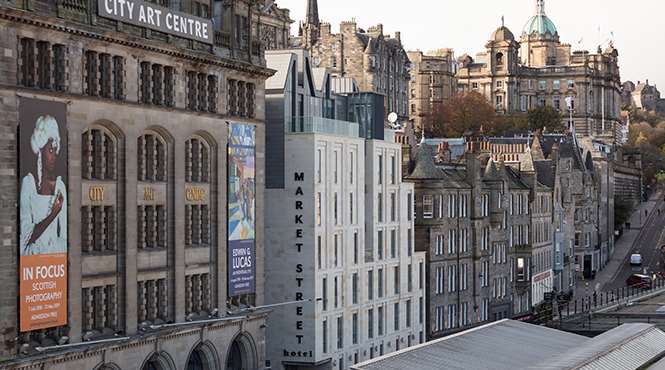 Market Street Hotel
Edinburgh - open May 2019
We are thrilled to announce that we'll be opening our brand new "Market Street hotel" in May 2019! Nestled in a site which has remained vacant for over 50 years, our unique property will help to complete Edinburgh's famous skyline.
The hotel is built on the border of Edinburgh's historic Old Town, at 6 Market Street, next to the City Art Centre. The unique hotel will have 98 modern, urban boutique styled rooms, with an exclusive top floor 'Champagne city residence'. It will offer spectacular panoramic views across the Waverly Valley.
Market Street hotel will be the first hotel in Scotland to be selected as a member of Design Hotels™.
Visit website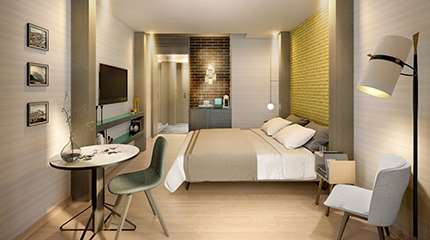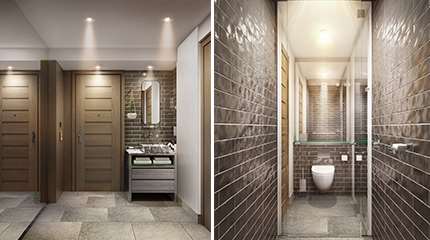 When old meets new
The building design is steeped in history and reflects the forward-thinking nature of Edinburgh, which is alive through all elements of design, interaction and guest experience. It is blended with Edinburgh's World Heritage 'skyline' by the construction of a unique piece of architectural work. On the outside, Scottish stone is cladded on the structure of the façade, whilst on the inside, historic references catch the eye throughout.
Contrary to the busy city life in front of the hotel, a quiet and intimate atmosphere is created in the small outer courtyard adjacent to the hotel's entrance. Inside, the hotel entrance is bright with immensely high ceilings.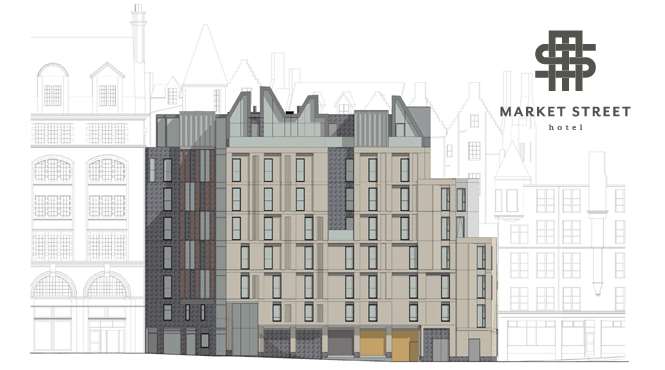 A sneak preview...
All rooms are designed with ante room bathrooms, where part of the bathroom is an open plan area. It is a unique layout that offers an ultimate hotel room experience. The modern design of the bedrooms takes a balanced approach by mixing contemporary designs with redefined traditional elements.
The interior design of Market Street comes from the award-winning designers FG Stijl who have offices in Amsterdam and Dubai. In 2007 FG Stijl designed The Dominican in Brussels, a boutique hotel which also forms part of the Carlton Hotel Collection.
Stay tuned and check out more updates, stories, designs and pictures on www.facebook.com/marketstreethotel.
Visit website