Edinburgh
The city that inspires us
Edinburgh is one of the most astonishing cities in Europe. As you stroll through architecture of the medieval era, you'll pass by the coolest shops, restaurants and art galleries. Everywhere you go you'll find beautiful parks and green spaces and even the sea shore isn't far away. Uphill and downhill, ascend crooked steps and descend the narrow closes of the Old Town, charming alleyways that branch off the street at right angles, home to some of the best restaurants and shops. If you're looking to get fit, all you have to do is walk through the city centre! You'll find Scotland's capital is built on seven hills. The heart of Edinburgh's city centre is the Royal Mile, a long cobbled-stone street that slopes down from Edinburgh Castle to Holyrood Palace.
Market street hotel
The soul of Edinburgh
A doorway to Edinburgh's heart and history, Market Street hotel is poised between the Old Town and the New Town to let guests experience this forward-thinking city with its strong roots in the past.
This first Design Hotels™ member in the Scottish capital is a short walk from the Royal Mile and Edinburgh Castle. The 98-room hotel's Scottish stone exterior hides a contemporary heart within. The interior is designed by FG Stijl, who won prestigious awards earlier with Carlton's The Dominican in Brussels, the interiors channel a brutal beauty aesthetic inspired by the location's character and history.
View hotel
Hot Spots
So much to do
Primely placed in the epicentre of Edinburgh, Market Street hotel it's ideally situated to discover the city. You'll find Edinburgh Castle and the famous Royal Mile in the Old Town only a short stroll away. Cross the Waverley valley to find St Andrew's Square, the city's gastro hub and experience the elegant New Town which boasts magnificent Georgian architecture complete with boutique shops and artisan cafes, only a stone's throw away.
More info

Edinburgh Castle
Not to miss
Visible from the rooftop terrace of Nor' Loft and only a short walk from Market Street hotel, Edinburgh castle is the jewel in the crown of Edinburgh's skyline. Playing host to an array of internationally acclaimed events and artists it's one of the most exciting historic sites in Western Europe. Set in the heart of our dynamic capital city, it is sure to capture your imagination.
Multrees Walk
Designer shopping (New Town)
Multrees Walk is a beautiful street, home to the most exclusive stores such as Gucci, Marc Jacobs, Louis Vuitton and Balenciaga. Gallery Castle Fine Art is exhibiting a collection of landscape paintings by the American singer Bob Dylan. This exclusive exhibition is entitled 'The Beaten Path'. Multrees Walk, with its beautiful window dressings, is a great place to window shop.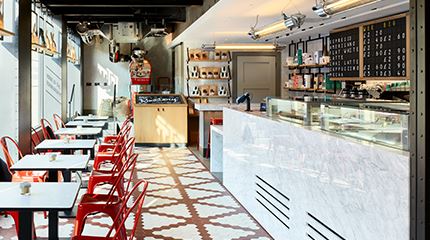 Gordon Street Coffee
6 Market Street (Old Town)
Gordon Street Coffee has brought the freshest coffee to Edinburgh. They roast the coffee on-site in their shop and their expert roaster uses the traditional methods of sight and sound to produce the perfect results every time. Customers can see the team at work in the roastery where they are more than happy to answer any questions about the process and see their coffee roaster nicknamed 'Deidre' in action. Gordon Street Coffee is easy to find as it is situated below Market Street hotel.
Calton Hill
Take a short hike!
Calton Hill is a 15 minute walk from Market Street hotel, now established as one of Edinburgh's main hills, set right in the city centre. The top of Calton hill is a usually quiet place to visit on any day, with its grassy slopes and panoramic views of the city, including down the length of Princes street and on to Edinburgh Castle. There is also a good view North of the ruddy-coloured cliffs of Salisbury Crags and Edinburgh's highest point, Arthur's Seat.
Affiliate hotels
In Edinburgh our 'sister company' Glendola Leisure operates even more companies. Their total portfolio includes a number of venues in London including Waxy O'Connor's, the renowned World's End Pub, Silk & Grain and various venues throughout the city. Glendola also run Waxy O'Connor's and Alston Bar & Beef in both Glasgow and Manchester.
In Edinburgh there are Le Monde, Angels Share, Gordon St Coffee and Frankenstein's as successful companies in the city. Market Street hotel will service Gordon St Coffee in the hotel as locally selected fine roasted coffee. Glendola Leisure and Carlton Hotel Collection have a shared philosophy, to excel in the world of hospitality by passion, entrepreneurship and creativity.
Angels Share
7 - 11 Hope Street
Angels Share Hotel & Bar is a showcase of contemporary Scottish culture. The 31 bedrooms boast some of the favourite iconic Scots, actors, musicians & sportspeople alike. Each iconic in their own way.
Whilst enjoying the history Edinburgh has to offer, the hotel displays the modern side of cool Scotland.
More info
Le Monde
16 George Street
Located in the heart of the city centre's George Street, Le Monde Hotel offers 18 individually designed stylish bedrooms which are inspired by the world's most exciting cosmopolitan cities. Wake up under the stars in Los Angeles, New York, immerse yourself in the atmosphere of Rio or enjoy a luxurious stay in Paris. The modern food and drink menus offer a world of savour and elegance, at any time of the day.
More info