SQUARE DEAL
Book now and receive:
5% discount
Free cancellation until 12pm on arrival day (on flexible rate only)
€ 10,- pocket money to spend in our hotel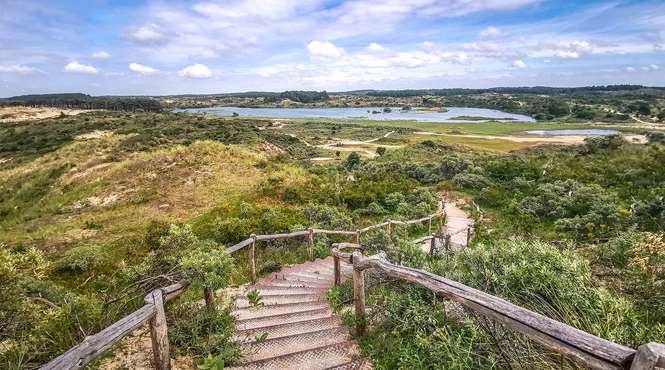 On an adventure by bike!
Starting from €18,50
In and around Haarlem you will find an oasis of beautiful sights and landscapes. There is never a dull moment for cycling and walking lovers and we are happy to present a few beautiful routes.
Do you feel like going on an adventure? Then the Spaarnwoude recreation area is something for you. You can climb on a climbing wall, mountain bike, rollerblade, go fishing and so on. Rather unwind in a peaceful and quiet area? The Zuid-Kennermerland National Park is a must to cycle through. You will find amazing landscapes, hills, deer and Scottish highlanders.
Half an hour by bike from Carlton Square you will reach the beach in Bloemendaal or Zandvoort to get a breath of fresh air.
Start Exploring
And enjoy the surroundings
Make sure not to let this Haarlem experience pass you by! Bringing your own bike or would you rather rent one? We can arrange it all!
Nothing is better than having your own bike on a beautiful trip through nature. You can safely park your bike at De Blauwe Tram, this bicycle shed has extended opening hours and is based a few steps away from the hotel and costs only €0.50 per night.
Would you rather rent a bike? Our bikes cost €18.50 per day
A little more convenience; for only €27.50 per day you can rent an electric bicycle!
Our Recommendations
Carlton Square works with route.nl, here you can find a large number of the most beautiful cycling routes. Including the Haarlem area! There are different distances you can choose from. Are you going for a big bike ride of 44 km or do you prefer it a bit closer to home and do you think 12 km is a nice distance?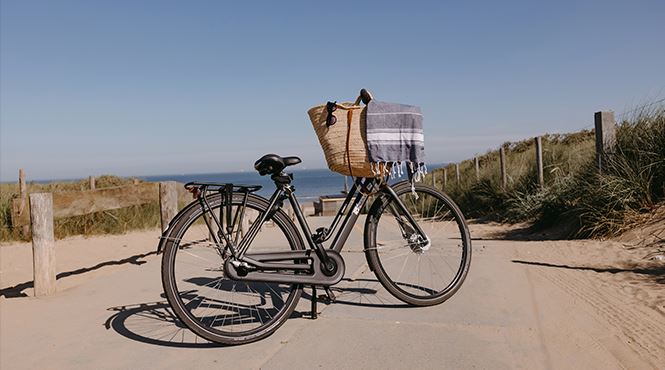 Along colorful fields and wooded dunes
41 Kilometer
Your route starts at Carlton Square Hotel with a cup of coffee at Bar & Kitchen Zocher. Further on you drive past the landscape park of Huis te Manpad, a beautiful estate. Then you drive through the Bollenstreek, past colorful fields. The beautiful octagonal Hogeveensemolen dates from 1654, it was used to drain the surrounding polders. In Noordwijkerhout you pass the White Church. This beautiful building dates from the sixteenth century. Just outside the village you cycle along the old deciduous forest of the former Leeuwenhorst estate. In Noordwijk aan Zee you can see the striking lighthouse from 1921. Then you drive many kilometers in the lee of woods and dunes. After you have left the Amsterdam Waterleidingduinen, you can go to the beach in cozy Zandvoort.
VIEW ROUTE
A tour of the city and nature from Haarlem
44 Kilometer
The old center of Haarlem is definitely worth a visit, it has been designated a protected cityscape. The tour takes you from the city through the Kennemerduinen, where you can learn all about it in Duincentrum de Zandwaaier. Then it is time to go into town and see Huis Te Zaanen. This national monument was originally a glory. There was once a castle behind it and the hus functioned as a gatehouse. Because Willem Zaanen was part of a plot to murder Floris V, the house was destroyed in retaliation in 1296. Finally, nature and environmental center Ter Kleef promotes nature and environmental awareness of Haarlemmers through educational activities.
VIEW ROUTE
Around Haarlem and South Kennemerland
41 Kilometer
Would you like to combine a day in the city and nature? Then cycle this beautiful route through the old Haarlem and National Park Zuid-Kennemerland. You enter National Park Zuid-Kennemerland, one of the most beautiful landscapes in the Netherlands. You can enjoy various dune and forest areas and old estates. You can go to the beach in Bloemendaal aan Zee. You will also drive through Aerdenhout, the village known for its majestic villas. And of course through Haarlem, the charming city that has almost 1200 national monuments! It is so much fun cycling along the canals here. Thanks to the town hall, the meat hall and the Sint-Bavokerk, you can fully enjoy the historic atmosphere on the Grote Markt.
VIEW ROUTE
Around Haarlem and National Park Zuid-Kennemerland
12 Kilometer
In Haarlem you first discover the Proveniershof. Then you walk out of the city, to a crenellated water tower from 1898 just outside Overveen. Some surrounding buildings on the site are also worth a visit. Further on you walk into the forests of the Zuid-Kennemerland National Park. Take a look at the water of Het Wed here. As befits a historic city center, the old center of Haarlem is also surrounded by canals and canals. You will find many old streets and characteristic monuments. On the Grote Markt are historic buildings such as the meat hall from 1603 and the beautiful medieval Sint Bavokerk. The City Hall dates from 1370.
VIEW ROUTE