OUR MEETING ROOMS
Looking for quality?
Whether you are looking for a suitable space for a meeting, conference, training or other meeting, the Carlton Oasis has a suitable space! We offer spaces for both large and small meetings. Every meeting is different, so we are happy to discuss the possibilities with you so that we can compile a tailor-made offer for you. Each room has its own charm and we are happy to link the right room to your meeting. A simple cup, an extensive lunch or drink, feel free to add what you need. Discover our spaces below!
Your request
Panorama View
A unique room that you will only find in the Carlton Oasis."
A beautiful spacious round room for large gatherings! With its unique elements of Voorne-Putten, Rotterdam and the port, you will feel right at home. Be inspired for the space and openness of this room.
An unique, round room for large congresses, conferences, fairs, presentations or other large gatherings for up to 400 people
Official wedding location
No pillars and built-in beamer with screen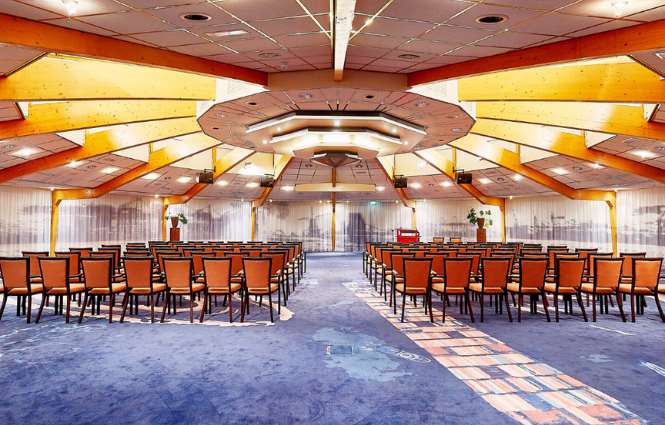 Training and small meeting rooms
Dock yard 1 t/m 4. The bridge 1 t/m 4 & the Play dock
"Industrial meeting rooms for small to medium-sized meetings."
Industrial rooms with a warm touch from our environment! In these rooms you as a group can fully focus on a training, meeting or course. Whether you are looking for a place where you can innovate or stay within the old. You can go to these rooms!
8 meeting rooms, each with their own setup options
Multifunctional rooms that can be linked
Also suitable for private requests such as for brunches, dinners or private parties
Corporate parties
A nice space for your company party."
In addition to the brasserie and English pub, the Carlton Oasis also has 2 Lounge areas where you can organize drinks for your company. The two spaces both have an industrial yet warm atmosphere that is reflected in every corner of the lounge.
Different possibilities and various rooms / spaces
Suitable for drinks, networking events, receptions and other gatherings
Warm but tough harbor look
Also suitable for private applications
Desert Inn Pub
Are you looking for the perfect place to host your next event?
Look no further, because the Desert Inn is the place to be for your festive occasion. Whether it's a smashing birthday, a cozy Friday afternoon drink, an evening of team building, a grand anniversary or business event, with us the possibilities are endless! Our unique location, personal service and attention to every detail will make your event 'a night to remember'.
So... what are you waiting for? Come and experience it for yourself!