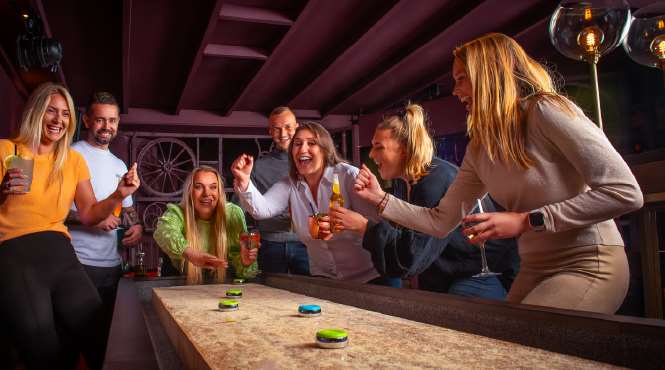 Come out and play
The Desert Inn is a must-visit if you're in for an evening of entertainment, fun and adventure. Imagine yourself in the wonderful world of games. With a wide range of games and activities, we have all the ingredients for an original evening of feel-good fun.
Will you shuffle yourself to victory? Who will you challenge to a game of pool? Or will it be one of the 18 (!) different games on our interactive dartboard? And don't forget to warm up your vocal chords ... our karaoke booth is opening soon!
One thing is for sure: you won't get bored in 'the most playful bar in town'.
WE LIKE OUR
LOCAL PRODUCTS
Keep it local
In our pub you will find the best local drinks and bar bites from the Spijkenisse area.
Are you a real beer lover? Then this is the place for you. Be surprised by our wide selection of draft and bottled beers, brewed by brewery Noordt from Rotterdam, among others.
More of a cocktail or Gin-tonic fan? The Desert Inn has it all! Book soon for an unforgettable evening.
WE LOVE TO HOST YOUR EVENT
Are you looking for the perfect place to host your next event?
Look no further, because the Desert Inn is the place to be for your festive occasion. Whether it's a smashing birthday, a cozy Friday afternoon drink, an evening of team building, a grand anniversary or business event, with us the possibilities are endless! Our unique location, personal service and attention to every detail will make your event 'a night to remember'.
So... what are you waiting for? Come and experience it for yourself!