Wellness facilities
Carlton Sports & Health Center is open!
Swimmingpool, Sauna and Steam Bath
Whether you are looking to relax and unwind or to work out and train, the Carlton Sports Health Centre is sure to have everything you need.
Start your day the healthy way at our Carlton Sports Health Centre. Take a refreshing dive into the heated indoor pool! For a less dynamic activity, you can go into deep relaxation mode in the sauna or in the Turkish steam bath. There are ample facilities available to our hotel guests free of charge.
open from 09:00 to 22:00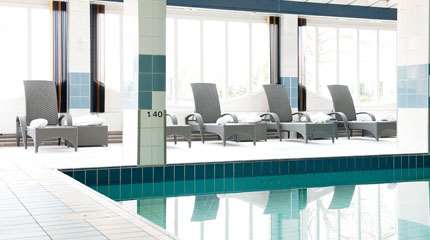 Swimmingpool
The swimming pool is open from 09:00 to 22:00.
The swimming pool is closed at certain times due to children's swimming lessons. The swimming lessons are given by swimming school Goederond.
Monday: 15:00-18:00
Teusday: 15:30-18:00
Wednesday: 14:30-17:00
Thursday: 15:30-18:00
Friday: 15:00-18:00
Saterday: 08:00-13:00
Lesson times are subject to change.
You cannot use the pool area during the lessons.