At the moment we are closed!
We are happy to welcome you in June 2020!
The terrace looks enticing, lazy chairs are waiting on the beach, rippling water is murmuring over the sand… There's nothing as wonderful and satisfying as spending an afternoon, a day, or a long, drawn-out evening at the Carlton Beachclub, which is considered to be one of the most relaxing beach resorts in the Netherlands
A truly heavenly spot for pampering yourself, whether you are enjoying a day with family or friends or just having lunch. It is true; everything always tastes better when you're near the ocean.
Go to the Beachclub website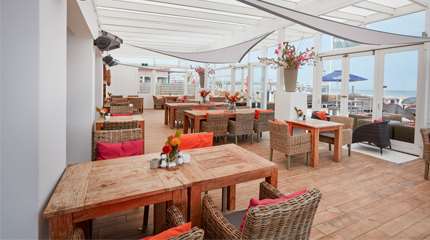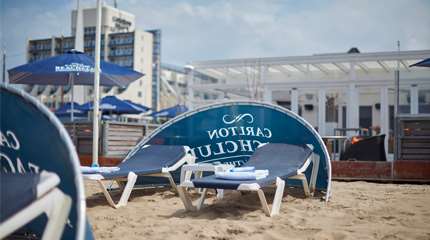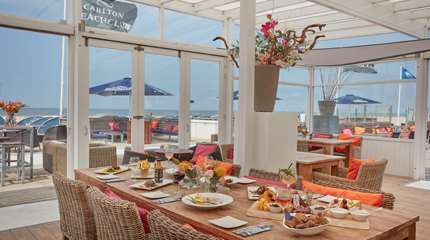 Catch of the day
Food & drinks services
From early morning till late in the night, you are always welcome at the Carlton Beachclub! Everything is possible here, from a picnic on the beach, lunch under a parasol and cocktails at the bar to an extensive twilight dinner as the sun sets.
Delicious food is available outside or inside the restaurant, whatever the weather dictates, so you're always sure to enjoy the Beachclub's refreshing cuisine prepared with fresh and light ingredients.
It's all nice and casual, so come as you are, with sunburned cheeks and sand on your feet.
Our kitchen is open from 12.00 till 20.00h
Menu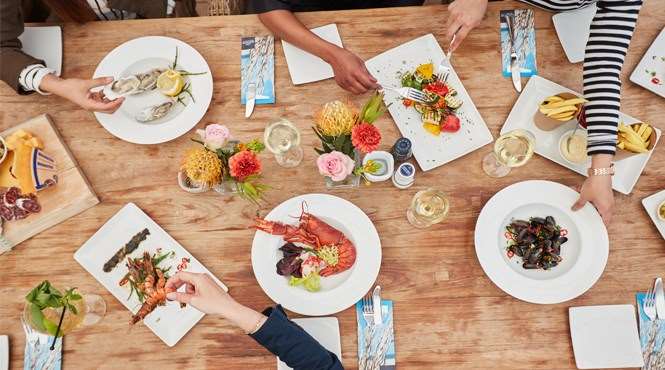 Meet me at The Beach
The ideal location for theme parties and much, much more...
Whether it's a personal party or a bachelor bash, a yearly company meeting or a family reunion, if you hold it at the Beachclub in Scheveningen, your event will be a great success.
But our Scheveningen resort is also an ideal place for company events that involve adventure or sports. Workshops, sports matches, or lazily basking in the sun, it all happens here. Last but not at all least, there's the food – the most delicious fare the whole coastal area has to offer.
An enthusiastic team of Event Managers thinks up an inspiring program for every kind of gathering and organizes everything down to the smallest details for groups of 2 to 500 people.
Overlooking a beautiful beach in Scheveningen, the Carlton Beachclub is the ideal location for theme parties, beach barbecues and kite races, for sand soccer or volleyball matches, for painting, sushi or cooking workshops – and much, much more. Needless to say, the culinary aspect of your event is always great too.
Go to the beachclub website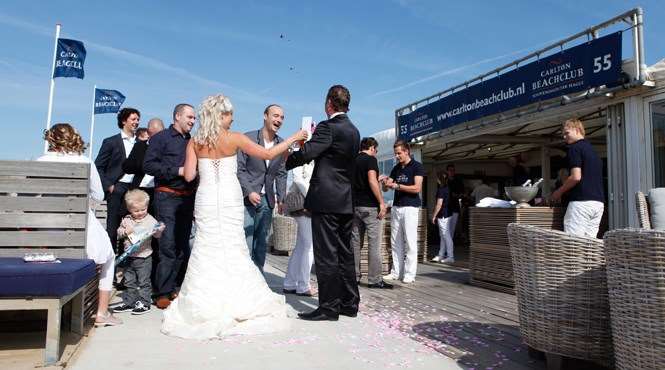 The ideal location
For a romantic wedding day
On your beautiful, romantic wedding day, everything has to be perfect. The location and surroundings, the ambience, the many details…
A wedding day at the Carlton Beachclub surpasses all expectations. Everything is possible, everything is allowed at this magnificent beach club in Scheveningen, Netherlands. Getting married with your feet in the surf, taking a ride on an old-fashioned tram, pictures in the dunes, a high tea or an Italian buffet – your every wish will be arranged and carried out immaculately.
your request