Green Key: Gold
Comfort and charm with an eye for the future.
Enjoying each other's company during a quick break, exploring the beautiful surroundings without a rush. Here at Banks Mansion we do our very best to make your stay one to remember, and at the same time we try impact on the environment as little as possible. Through small measures we can achieve a great deal without impacting on your comfort, and this is why we at Banks Mansion have chosen to make it our goal to achieve the Green Key Certificate.
Green Key is an international label for sustainable businesses in the hospitality industry. This label shows that Banks Mansion will do everything within its abilities to reduce the impact it has on the environment as a company. By pursuing this label Banks Mansion is going further than required by the normal rules and regulations.
There are three levels which can be achieved within the Green Key Certificate: bronze, silver and gold. The more environmentally friendly and durable the company will be, and therefore the smaller the impact on the environment will be, defines which level the company will achieve. Banks Mansion is very proud to announce that we already hold on to the Gold certificate for more than 5 years!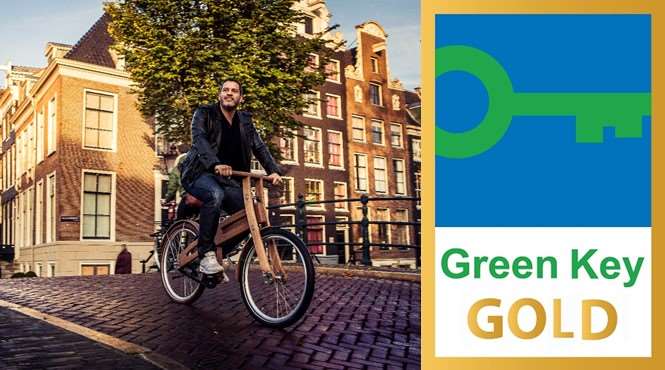 The Green Key Certificate
The use at Banks Mansion
A very important part of the Green Key Certificate is that guests are not inconvenienced by the actions taken by the hotel. We do not expect our guests to continuously think about their impact on the environment during their holiday - on the contrary, you may even enjoy your holiday more knowing that by choosing Banks Mansion you are already being environmentally friendly! Banks Mansion has found a strong balance between the comfort of our guests and sustainability.
As an example of our sustainability efforts, Banks Mansion works with local entrepreneurs and producers, and as a result we mainly work with products from the region. Not only is this good for the environment, but it means our dishes are fresh, local and delicious! But there's more: from giving less fortunate employees having a chance of a career in the Hospitality to environmentally friendly hand soaps and shampoos to energy efficient appliances, and from LED lighting to our wooden bikes we're doing our part to protect the environment! Banks Mansion is committed to reducing our water usage, but only so that after a long day you can still enjoy a nice hot shower! Not only will this improve your comfort during your stay, but also has a better and smaller impact on nature and the environment!